Sales Operation Management
---
Things to Manage for Your Thriving Sales
The more your sales thrives, the more things you have to take care of.
Since you have a lot of transactions to deal with, you may accept an order without knowing your inventory shortage,
or you may not manage your receivables and invoices properly due to the miscommunication between sales and accounting departments.
Likewise, unless your sales go in a seamless way, they can suffer from setbacks.
Thus, a systemized sales process is necessary for your sales to thrive, increasing the need for an efficient sales management program.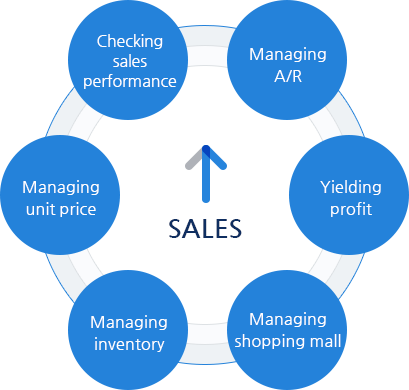 ECOUNT provides you an optimal environment for your sales management.
Sales Performance Management
The necessity of managing well the sales performance and status rises as your sales grow.
With ECOUNT, you can see at a glance your sales performance by salesperson and store in various reports.
Sales data automatically sync to reports in real-time and the reports can be viewed in various formats without any extra work.
Outstanding Receivable Management
As the number of your customers grow, it becomes a burden to manage the outstanding amount by each customer.
With ECOUNT, the sales amount entered is automatically reflected on receivable amount, so the accounting PIC can just directly view reports.
A variety of reports are available such as AR by customer and Customer/Vendor Book, where you can view the outstanding receivable amount and transaction history by each customer.
In addition, credit limits can be set by customer, preventing excessive debts.
Profit Calculation
Profit margins and ratio are automatically calculated based on the sales data.
You can easily view the profit not only by item but by customer as well, helping establish your sales strategy to maximize profit.
Unit Price Management
Set different price levels by item and customer.
The entered price information is automatically imported when entering in sales, preventing errors in entering prices.
You can also automatically import the price of the last transaction history as necessary.
Real-time Data View
Salespeople can view data even outside the office.
Since you can access the necessary data on mobile App or tablet PC,
the burden of having to call each PIC every time you want to verify the item unit price or current stock is eliminated.
Link between Work
You can import quotation data to create sales orders, and sales orders to create the actual sales data.
This can help you prevent any omission or incorrect data.
With the link between all your works, tracking your work progress status such as checking the outstanding sales order quantity can be done easily.
Inventory Management
Check your inventory on hand in real-time, and selectively receive orders accordingly.
Build your production plan according to the raw/sub material stock in your warehouses.
Calculate your P/O quantity according to your production quantity and help linking work between departments.
Online Store Management
As for online sales, the management can get tricky due to various sales channels and the amount of orders increasing rapidly.
ECOUNT automatically links to your online store and import the order data.
The imported order data can be transferred and created as ERP sales orders and sales data, and since you can transfer ERP data such as order status and stock on hand directly to your online store, you can prevent discrepancy in the inventory management between online store and ERP.
You can manage not only inventory but also later steps including delivery and sales processing.