Start-ups
For Start-ups to Use ECOUNT
Standardized Work Process Can be Implemented
Even for new companies and start-up companies, work related to how many sold and how much earned is all the same.
Progressive and standardized work flow structure can be made with ECOUNT, and you will not need to go through any hassel of making mistakes on the way.
Implement the standardized work flow together with ECOUNT, which is used by more than 70,000 companies worldwide.

ECOUNT, Just at $55/month
You can use all functions from inventory, production, accounting, sales, purchases to payroll and much more just at $55 a month.
Online shopping mall linkages, bank account connection, messenger, online payroll system, online sales order system are all included in the monthly subscription fee.
"Payment will be coming in on 10th of next month, how much would I need to spend for payables and rent this month?"
There is sure to be limitations when it comes to calculating so many numbers in one's head.
ECOUNT can automatically create receivables/payables/profit and loss reports for your business.
You can make quick and easy decisions upon viewing these reports, wherever you go, just as long as you have internet access.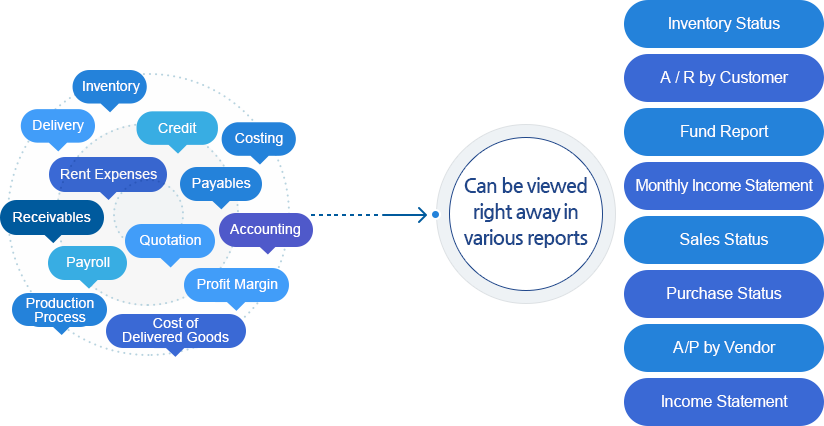 Working Will Become Much Easier
If you manage all your books with excel manually, you will not be able to avoid the process of having to input the same data over and over again for each sales, purchases, receivables, payables and also for creating reports.
With ECOUNT, you can manage all areas of business that are interlinked with one another with a single input.
What you have input as a record will be used for creating all reports we provide on ECOUNT.
ECOUNT APP, All You Need is a Mobile Phone
For start-up companies, it is very common for the managers to be involved in actual sales, or employees to be in and out of the office everytime.
Why ECOUNT?
REASONS TO CHOOSE ECOUNT