What is Accounting Software?
Accounting software refers to software that systematically records and manages various accounting tasks
such as transaction details, receivables/payables, and fund status that occur during company operation.



The primary purpose of using accounting software is to computerize accounting books
that were manually prepared one by one, managed them conveniently, and efficiently handle complex accounting tasks.



By using accounting software, you can integrate vast amounts of accounting data into one place and simplify
various accounting work processes, such as receivables/payable management, budgeting, and cash flow monitoring.
Things to Consider When Selecting An Accounting Software
In order to introduce successful accounting software,
it is necessary to check in various ways whether the program is suitable for your company's business environment.
1) Reasonable Price: An expensive software does not mean the best.
It is important to find an accounting program that's right for your company.
It is necessary to introduce accounting software that provides all the functions at a reasonable price for the company.
2) Easy to Use: No matter how good the software is, it is useless if the user does not use it properly.
In order to make work easier by introducing an accounting program,
it is necessary to provide a working environment that anyone can use easily.
3) Integrated Management: If various tasks for each department are managed with different software,
duplicate tasks are repeated and inefficient.
Therefore, it should be possible to conveniently share all tasks within the company,
such as inventory, accounting, and human resources, with one program.
4) Training and Consultation Support: Even if you introduce good accounting software,
it is difficult to use it if training and support are not provided.
In order to successfully settle down and use the program after introduction,
systematic training and customer support must be provided.
4 Advantanges of Using an Accounting Software
When you introduce accounting software, you can save time by simplifying complex business procedures.



It also creates more accurate accounting data by avoiding errors that can occur when entering books by hand.



Various accounting-related reports provided by accounting software are useful for
corporate managers to monitor, analyze, and improve their business performance and financial status.
1. Reports Are Automatically Generated.

Transaction details such as sales/purchases, payment/receipt are entered into the accounting software,
and they are immediately reflected in various reports such as receivables/payables, costing, and profit/loss.
Accounting reports are created automatically, saving you the time of manually creating and editing reports each time.
2. Miswrites and Omissions Can Be Minimized.

Using accounting software can prevent errors in misalignment or omission of data.
Inaccurate data and reports are useful for accurate analysis of our company's financial condition.
3. Possible to Make Fast and Accurate Decision-Making

If you cannot quickly check the necessary data or if the reliability of the data is low, it is difficult to make a quick decision.
By introducing accounting software, accurate reports can be checked immediately when desired,
helping managers to make decisions.
4. You Can Manage Your Data Safely

If you cannot quickly check the necessary data; or if the reliability of the data is low, it is difficult to make a quick decision.
By introducing accounting software, accurate reports can be checked immediately when desired,
helping managers to make decisions.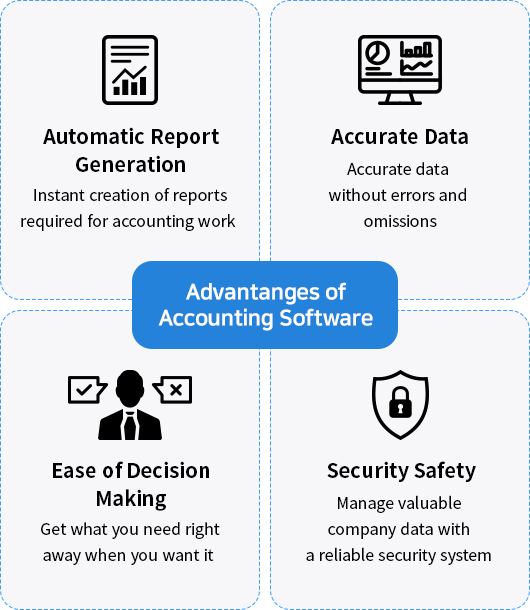 ECOUNT Accounting Software
ECOUNT accounting software has standardized various functions
so that various companies can use it regardless of industry/business type.



ECOUNT automatically creates a journal entry just by entering the account and amount,
so you can easily create a slip without knowledge of accounting.



In addition, accounting reports such as the balance sheet and monthly profit/loss are automatically created,
so you can understand performance in real-time.
Advantages of ECOUNT Accounting Software
1) Easy Input Method

If you enter various transaction details such as purchases/sales and receipts/payments, journal entries are automatically made.
Even beginners without accounting work experience can easily manage accounting with ECOUNT.
2) Interlocking With External Data (Bank Statement/Payment Gateway)

External data such as account deposit/withdrawal history, and payment gateway history can be linked and stored as slips.
You can shorten the time to check and input data one by one, and you can manage your money without missing data.
3) Interlocking With GW(Groupware)

ECOUNT can be linked with groupware, so it is easily to share work between departments.
Moreover, slips entered into accounting softwares such as payment journals, can be uploaded directly to e-Approval.
4) Create Accounting Books Automatically

When transaction details are entered into ECOUNT, they are immediately reflected in the receivable/payable of the customer with auto-created account book.
You can easily view the status through various reports such as ledger and monthly purchase/sales status.
5) Various Accounting Reports

You can check various accounting reports in real time, such as monthly profit/loss, income statement, balance sheet, etc.
Faster and more rational decision-making is possible because you can immediately check the data necessary for business judgment.
ECOUNT ACCOUNTING SOFTWARE - View more