What is ERP?
ERP stands for Enterprise Resource Planning,
a program to control the whole work process of a business as an integrated system.

Covering Inventory, manufacturing, accounting, payroll and so on, ERP consists of multiple features that a business requires.
Data entered into ERP will be exported in various types of reports
which allows corporate mangers to make rational decisions.

Recently, market demands for cloud-based ERPs that are accessible via internet connection is growing.
Cloud-based ERP does not require server installations or licenses which dramatically decereases the initial cost both in money & time wise.

Cloud-based ERP has torn down the barriers for mid-small sized enterprises for adopting ERP systems
ERP Features
ERP covers all the features that a business requires, inventory, manufacturing, accounting, sales, purchasing, payroll, etc.
Each features are organically connected, allowing to integrate and manage workflow easily.

With ERP, you will be free from repeated, consuming tasks and reporting process will be simplified.
This will allow the enterprise to save and efficiently use both time & labor.
1. Finance/Accounting

To precisely track and manage income, expenses, assets of an enterprise.
Sales/Purchase, payment/receipt records will be reflected to various accounting reports such as cash report, income statement, etc.
2. Sales/Purchase

Manage sales and purchase records by customer/vendor and item.
Sales and purchase data entered into ERP
will directly be linked with the inventory movements, AR/AP, and income reports.
3. Manufacturing

Manage manufactuing processes and the movement of stocks.
Track record of raw/sub materials consumed within the process
and calculate the cost and profit if each item.
4. Inventory

The purchase, sales, manufacturing data entered into ERP will directly be linked with the inventory data,
allowing users to view the current balance and the movement of the inventory.
5. Payroll/HR

Manage and human resources and easily calculate payroll.
Create payroll books and statements by calculating insurances and bonuses,
also record the payments in the accounting books.

6. GW, Webmail

No need to use separate collaborative solutions,
now ERP, groupware, webmails are provided as an integrated system.
7. Data Security

Manual book keeping or recording on Excel spreadsheets, the possibility of data loss is high.
Adapting an ERP with a high level of security system, corporate data can be stored safely.
ECOUNT ERP
ECOUNT ERP is a cloud-based ERP solution started its service since 1999.
Accessible from anywhere, anytime via web,
costing only USD 55.00 per month.
Today, apx. 70,000 companies are now enhancing their work efficiency with ECOUNT ERP.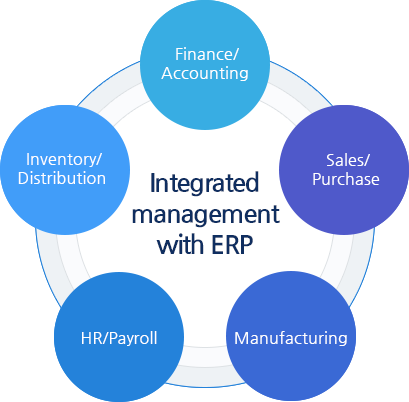 Main Features of ECOUNT ERP
1) All functions that a business requires.

Inventory, manufacturing, accounting, sales, purchase, HR, payroll, groupware, webmail, messenger
Provided as a single program, having all functions that a business requires.
2) Affordable

Unlimited number of users
at only $55.00 monthly.
3) Anywhere, Anytime

Since it is a cloud-based ERP, access anytime without any installation via web.
From home office or during business trips, you will have access from anywhere.
4) Data Security

ECOUNT has been certified ISO 27001, international standard on data security, for its excellence of security system.
Your data will securely be stored on AWS (Amazon Web Services), the most secured server in the world.