70,000 Clients Worldwide
Industry Experience & Expertise
ECOUNT ERP is currently being used by more than 70,000 different companies worldwide.
Since our program is entirely web-based, users can access it anywhere in the world.
Over the past 20 years, we have worked to fine-tune our expertise in Cloud Computing and SaaS (Sales as a Service) service models. Thus, competitors are not easily able to mimic all of our innovative product offerings.
Our Standardized Solution
By providing each of our 70,000 companies with a standarized software, we are able to focus our efforts on creating a solution that offers the standard features required by a variety of industries.
We base our development efforts on fulfilling the basic needs and requirements of most small and midsized businesses. This philosophy takes into consideration the important tools each business may need, from advanced management tools to minor administrative tasks.
Our Development Team decides on the design and implementation of new features based on their relative demand. Much of the criteria we use to consider the development of a new feature is based on its corresponding importance to each industry and government regulations.
Current Markets
ECOUNT ERP provides its service to a wide range of industries through a single standardized program.
Although the program may not meet each industry's individual needs perfectly, you may consider implementing our program if your business falls within one of the following sectors.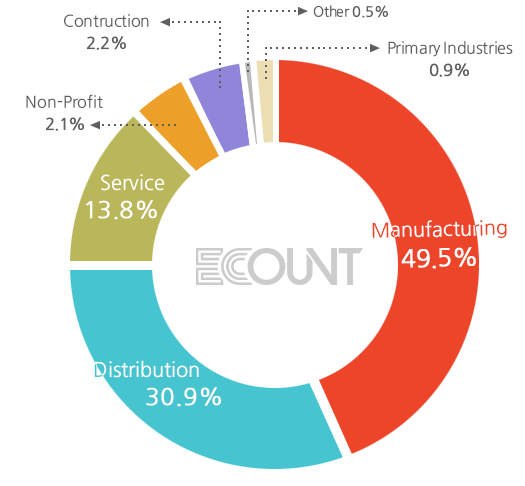 ㆍRanking of Usage by Country
| Ranking | Country |
| --- | --- |
| 1 | Korea, Republic of |
| 2 | China |
| 3 | Taiwan |
| 4 | Viet nam |
| 5 | United States |
| 6 | Indonesia |
| 7 | Malaysia |
| 8 | Philippines |
| 9 | Japan |
| 10 | Ghana |
| 11 | Thailand |
| 12 | Hong Kong |
| 13 | Singapore |
| 14 | Mexico |
| 15 | Cambodia |
| 16 | United Arab Emirates |
| 17 | Australia |
| 18 | Germany |
| 19 | India |
| 20 | Nigeria |
<As of Apr. 2019>
Manufacturing
- Electronics

6.99%

- Food production

6.33%

- Machinery

6.21%

- Vehicles

4.82%

- Communication products
Electrical components

3.11%

- Semiconductors

2.55%

- Clothing

2.55%

- Electrical components

2.37%

- Medical equipment

2.17%

- Books

1.99%

- Dairy goods

1.83%

- Plastics

1.81%

- Electrical equipment

1.81%

- Metals

1.71%

- Computers

1.71%

- Electronics

1.69%

- Furniture

1.51%

- Machine parts

1.51%

- Office supplies

1.51%

- Lighting

1.43%

- Cosmetics

1.43%

- Printing products

1.41%

- Testing equipment

1.37%

- Building materials

1.25%

- Production molds

1.21%

- Other goods

1.19%

- Chemical products

1.17%

- Industrial products

1.10%

- Chemicals

1.04%

- Industrial products

1.00%

- Pharmaceutical

0.96%

- Software

0.90%

- Packaging

0.88%

- Home appliances

0.84%

- Electronics

0.76%

- Processing

0.74%

- Sports goods

0.74%

- Paper goods

0.66%

- Textiles

0.64%

- Shipbuilding

0.62%

- Utensils

0.62%

- Video products

0.56%

- Metals

0.54%

- Linen

0.54%

- Glassware

0.46%

- Farm products

0.44%

- Concrete

0.40%

- Advertising

0.36%

- Storage products

0.34%

- Other

20.21%
▲ TOP
Distribution
- Food products

8.04%

- Trade

6.56%

- Computer

6.30%

- Agriculture

5.43%

- Medical products

4.53%

- Cosmetics

3.89%

- Builiding materials

3.41%

- Clothing

3.38%

- Accessories

3.38%

- Electronics

3.18%

- Automotive

3.09%

- Electrical equipment

3.05%

- Sports goods

2.83%

- Communication
equipment

2.64%

- Office goods

2.25%

- Household appliances

2.19%

- Household goods

2.09%

- Machinery

2.06%

- Science equipment

1.90%

- Electronics

1.86%

- Kitchen appliances

1.41%

- Chemical products

1.38%

- Book distribution

1.32%

- Furniture

1.25%

- Metal goods

1.25%

- Machine parts

1.25%

- Pharmaceuticals

1.19%

- Electronics

1.09%

- Beauty supplies

1.03%

- Franchises

0.96%

- Textiles

0.80%

- Eyewear

0.80%

- Software

0.80%

- Chemical products

0.68%

- Farming products

0.64%

- Pet supplies

0.61%

- Communication products

0.61%

- Musical Instruments

0.58%

- Light fixtures

0.39%

- Other

9.87%
▲ TOP
Service
- Software

17.10%

- Staffing agency

7.0%

- Consulting

5.92%

- Logistics

5.48%

- Hospitals

5.34%

- Property management

4.91%

- Restaurants

4.47%

- Advertising

4.26%

- Education

2.89%

- Architecture

2.45%

- Real Estate

2.45%

- Online services

2.38%

- Tax services

1.95%

- Accoutning

1.88%

- Audiovisual

1.80%

- Warehouses & Storage

1.73%

- R&D

1.73%

- Franchise management

1.59%

- Product development

1.52%

- Tutoring services

1.37%

- Entertainment

1.37%

- Telecommunications

1.15%

- Property management

1.01%

- Event planning

0.94%

- Hospitality

0.87%

- Travel agencies

0.72%

- Insurance services

0.65%

- Car repair services

0.65%

- Others

14.43%
▲ TOP