Credibility/Stability
The credibility and stability of a service program provider is one of the crucial factors in choosing an ERP.
ECOUNT is a reliable and dependable company that has focused only on developing a complete Web-based ERP.
Features
ECOUNT is a robust company that has continued to grow.
ECOUNT has optimized their infrastructure to accommodate growing and innovative industries.
ECOUNT prides itself over its level of security and attention to details. In addition, our price for an all inclusive ERP can't be beat.
Main Features
Dedicated and Reliable Software & Company

Since its foundation, ECOUNT has strived and focused itself only to develop a complete cloud based ERP software, and accumulated an outstanding level of relevant database.
We have set our price based on the amount of consistent customers we have gained, in order to make the product affordable for all.

Adaptable & Scalable

With our free weekly upgrades, we can instantly respond to the changing work environment.
With more than half of our employees focused on developing new features, we're focusing ourselves on the future, rather than the present.
A dedicated customer support is provided in various formats such as customer service center, in-field training, video tutorials and online inquiries.

Strong Security

With the acquisition of ISO 27001(International Security Certification), we're keeping a strong level of information security.
The data entered in ERP are securely stored in multiple databases in a distributed way.
To further protect your ERP data, we store our servers in Amazon Web Services(AWS), essentially blocking any unauthorized access and leakage.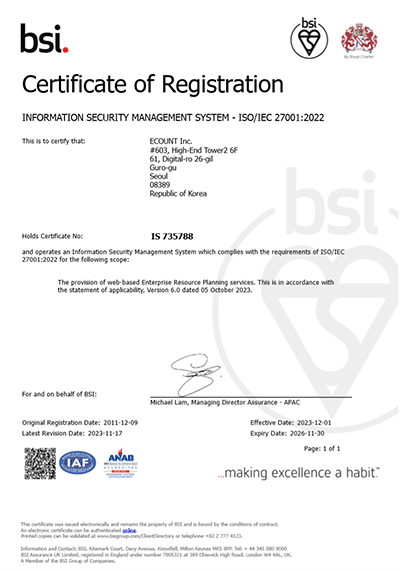 ISO27001