Directors and Chief Executives
Implementation of Advanced Work Process, ECOUNT at RM200/month
Need for Standardized Management Software Malaysia in SMEs
Managing how many and how much you have sold basically lies on the same page for both SMEs and major enterprises.
However, in general, SMEs have a much weaker management structure than bigger companies.
managing with Excel or manual bookkeeping are both prone to human errors that can become serious
managing with different programs for each departments can also make it hard to link and share work among workers
This does not necessarily mean that SMEs should spend billions of dollars to implement the same system as major enterprises.
Implementation of Advanced Work Process with ECOUNT
70,000+ companies and enterprises that come from various industries often come to ECOUNT to seek help and our effort to solve their problems have made us what we are right now.
Starting to use ECOUNT, management software malaysia, would mean that you are implementing the best possible way to manage, whichever industry you may be in.
What Would be Better with ECOUNT?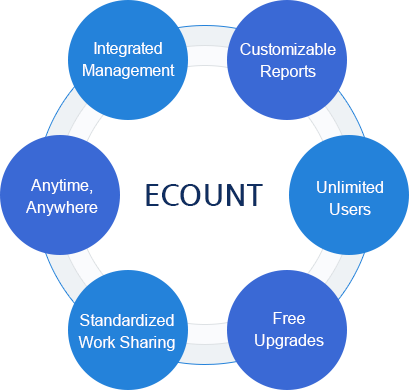 Direct Data Checking for Executives
Instant Data Checking
If, for example, the PIC for accounting reports A/P and A/R data everyday,
that person would have to go through the bothersome job of creating a report then printing it to show it to executives.
When using ECOUNT, these unnecessary work can be removed, rather check the data straightaway on screen.
100% Web-Based, Usable Even During Outside Duty
ECOUNT can be used on PC or on a mobile phone, just as long as you have access to internet.
Checking book balance, sales performances, production status can all be checked without having to wait for someone to report to you.
Even with mobile apps, you can use all functions that are available on the web, which allows you to check your company's current status in real-time.
System That Integrates Everything into One
Management reports include sales/purchases, sales performance, stock balance and payroll to show the status of the whole company into one.
You can use all functions from inventory, production, accounting, sales, purchases to payroll and much more just at RM200 a month.
Managers and directors can see every single data each PIC has created in one program.
Sharing and Limiting at the Same Time
For you to manage the whole company in a system, all members of the company should be able to use the program.
Since ECOUNT offers unlimited number of user IDs at no additional cost, you can register everyone to use it.
You can create unique IDs for each individual and also limit what they can see or do based on authorization settings.
Sustainable System
ECOUNT, an affordable management software malaysia which offers unlimited user IDs and all functions,
can be used even when your company grows bigger.
With program updates, all the recent changes will be made on the program to be a perfect fit for the fast changing environment.
We offer a semi-permanent program that can grow with you.
Groupware, a Communication Center for Your Company
Groupware enables you to take quick actions with e-approval and bulletin share boards.
It leaves all history of the posts and files uploaded, which will help employees to communicate better and to take more responsibility when working.
Work requests are shared and easily confirmed between members.
Management Software Malaysia - Local Branch
With ECOUNT Malaysia Branch, you can get support near your location.
Our CS team and training support will help your business grow to be more efficient.
Grow bigger with the best management software malaysia, ECOUNT ERP.
Why ECOUNT?
BE MORE EFFICIENT WITH US