Fast Growing Companies
Why Fast Growing Companies Must Adopt a Program
Lack of Proper Management Structure
If a company is very small in size, then it is possible to manage in whole.
However, if a business grows fast and starts to expand its size, lack of proper management structure can cause various problems.
Put More Effort in to Grow Bigger
It may be difficult to share and cooperate with one another in a fast growing environment, causing leakages in expenses and trouble when it comes to tracking down transactions.
When a company is relatively small, it is easy to find where the problem is coming from and to fix the root of it; but as the size of the company gets bigger, even the small problems, when they get accumulated, can bring about a serious problem in the future.
This is why a fast growing company needs accruate management structure.
For a Fast Growing Company, ECOUNT Can Become Your Key
Adopting a Stable Program
ECOUNT already has functions that a company would need: inventory/production/accounting/sales/purchases/payroll/groupware.
Without the need for establishing a whole new in-house server or any installment, you can use ECOUNT straightaway after signing up.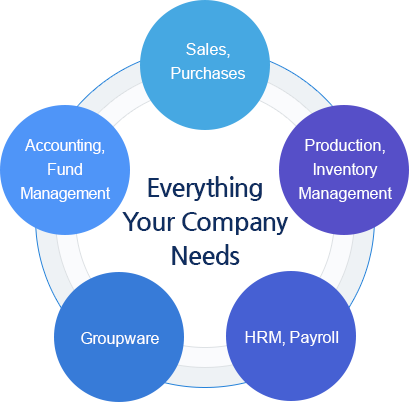 A System That Can Grow With You
You can show only those menus you will be using by resetting the configuration.
For those menus that you will not need to use, it can be hidden for some time until you feel the need to manage them.
As the scope of your work expands, you can take out, show and use the menu later on.
Unlimited Users, Share Everything with Everyone
You can provide everytime a new employee comes to the workplace.
Setting detailed authorization for each ID is also possible,
which enables each users to have an unique ID that can access only to their area of daily work.
Helps CEOs Manage the Whole Company Easily
An overview of the company from AR, P&L to Sales status can be shown as soon as you log in to ECOUNT,
making it easier for decision makers at the company to make accurate decisions.
Leave the Management to ECOUNT, Focus More on Sales
If you combine all your work into ECOUNT,
it becomes very easy to track down which sales transaction is missing and which expense slip is incorrect.
The time and money you would have spent on these can be used for focusing more on sales itself.
100% Web-Based, Real-Time Management
As your business grows, you will need to be out of the office more often.
Whether you are at a client's office or some place out of town for making potential contract successful,
with ECOUNT's web-based nature, you can easily access anything and everything that you want just at your fingertips, wherever you may be.
Easy To Get What You Want
ECOUNT's menus are all interlinked, so that with inputting data for the first time will create you various reports.
Sales, Receivables, Inventory and Profit and Losses can be checked all at once.
Whatever data you have input into the system can be checked in real-time,
and preset reports can be customized further to include all details you wish to see.
Why ECOUNT?
REASONS TO CHOOSE ECOUNT