Production Manager
Inventory Status In Your Hands To Keep Production Running
Easy Entry for Inventory In/Out for Each Process
Stock level for raw/sub materials used during production will decrease and semi/finished goods made during production will increase based on preset BOM details.
You do not need to manage each process by process as if you input only the production details, it will calculate in/out of different item categories for you. (raw/sub material, semi-finished good, finished good)
Inventory Balance of Location, Factory at a Glance
You can manage stock balance of all locations and factories as there is no limit on registration number.
Easily check for yourself how many of the raw/sub materials are left and also make quick decisions on whether you have sufficient amount of materials to carry out the next production process or not.
Production Plan to Meet Sales Order Delivery Deadline
Production plan can be made by taking the delivery date of a sales order and its required material quantity into consideration.
To meet its deadline, you can see whether you would need additional production of the goods, and how many you would need to make in the future.
Purchase Order that Predicts Future Stock Balance
Based on the production schedule, you can check insufficiency of raw/sub materials at the time of production that has not happened yet.
At the time of this future production, you can see predicted numbers of each material and if an insufficiency is expected, you can create purchase orders to top up those items you will need
The Easiest Production Management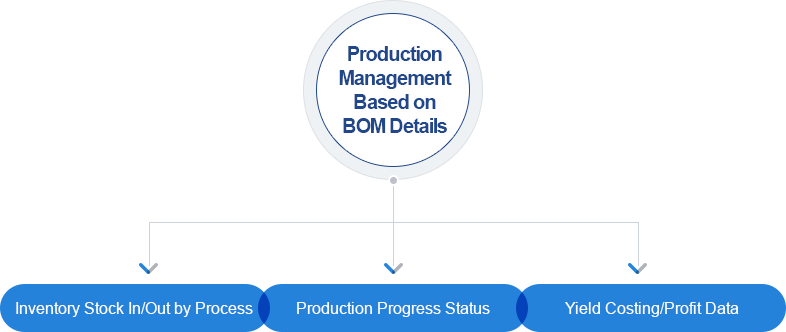 Multi-Level Process Management
You can manage up to 30-level processes for production and according to the preset BOM details, you can automatically pull and apply relevant data for easy management.
Production Progress Status Management
Goods at its finishing stages and goods before starting the production phase can easily be checked. In addition, up to which level you are up to in the whole process can be seen at a glance.
Automatic Calculation for Costing/Profit
ECOUNT calculates costing and profit for you automatically.
Average Cost Method, FIFO(First-in-first-out), Last Purchase Cost Methods are all offered by ECOUNT for you to choose from.
Expenses on labor and other costs can be applied to yield even more accurate costing, and
this costing amount and sales price can be used later for calculating profit margin.
Integrated Management Solution for Outsourcing Factories and Overseas Factories
Outsourcing Factories Management
Outsourcing process management can also be done in ECOUNT.
From inventory stock count at an outsourcing factory to outsourcing price can be managed in whole.
Production progress status and order status can be checked by the outsourcing company on online CS Portal which is provided at no additional cost.
Integrated Management for Overseas Production Lines
Overseas production that took place far from your office can also be managed by ECOUNT.
You can even use ECOUNT overseas; and
we offer multi-language settings for English, Spanish, Chinese(Traditional/Simplified), Vietnamese and Indonesian.
This allows you to check the same data in many different languages.
Why ECOUNT?
BE MORE EFFICIENT WITH US